Hylab, your reliable partner for quality dispensing equipment 
With so many brands and products available, how do know you which one to choose from? How do you know the dispenser you buy is of good quality and safe to use? Is your decision based on price and deliverability only, or are you also considering the product quality, longevity and reliability of the equipment supplier? Price and quick lead times are always important but when buying soap and paper dispensers it is equally important to rely on a supplier that offers dependable and good quality products.
Hylab has been in business since 1947 and is continuing to support customers with high quality, innovative and reliable dispensing solutions. We always strive to provide our customers with the best products available for their requirements. Product innovation, quality assurance, pre and post-sales support, state-of-the-art manufacturing processes as well as our ISO certifications, patents and trademark registrations give our customer the peace of mind that Hylab is the best partner for their business.
Quality assurance at Hylab is key
At Hylab, our quality culture has always been one of the foundations of our company and we continuously uphold it across our business. In-house quality checks are conducted throughout the whole design and production process. Component samples from each production batch are constantly measured against the approved models to ensure that every product is always up to the highest standard. Within our laboratories, our team of specialists carry out continuous pumping tests to analyse and maximise the life expectancy of every dispenser.
Hylab holds the international certification ISO9001 and operates in accordance with ISO standards and our products comply with the UC& CE mark. By sourcing products from an ISO9001 certified company you can be sure that the products are produced and controlled based on certified quality standards.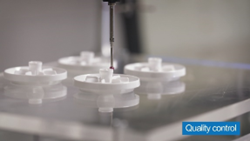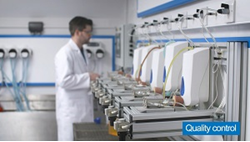 Automated manufacturing processes
85% of our components are produced in-house in the UK for full control, from injection moulding to the packing of finished goods. We are using the latest generation of injection moulding machines, modern robotics, CNC milling, lathes and automated assembly. Throughout our manufacturing process we conduct quality tests on our components to ensure we produce high quality products. We are following sustainable manufacturing processes according to ISO 14001 to ensure our environmental impact is monitored and continuously improved.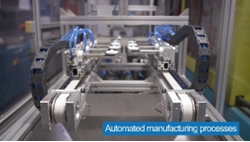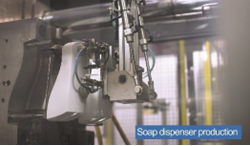 Company and product certifications
Hylab is ISO 9001 certified and many of our products are protected by patents, trademarks and design registrations. By sourcing products from an accredited ISO 900 manufacturer, you can be assured that you will be equipped with consistent, good quality products that offer a high return on investment, contributing to your business' longevity. While a cheaper alternative may cost less upfront, the long-term benefits of good quality equipment in terms of customer satisfaction, long-term savings and improved productivity, can fast outweigh the short-term gains of a cheaper product.
Customer Service
When choosing the right equipment supplier it is important to have a loyal partner who will support you pre- and after sales. Our team of experts will give you all the information you need to ensure the product you buy has the specifications you need. Hylab customer support does not end with your order, we will continue to be there for you whenever you need our support.
Warranty
All our soap and paper dispensers have a warranty of two years. Our two-year warranty provides you with peace of mind and assures you that the product is of good quality and performance.
Accessories
You need a new pump for a soap dispenser or need to switch from a liquid pump to a foam pump? Hylab soap dispensers are designed so you can mix and match pumps and containers. Our selection of different pumps and containers makes it easy for you to find the solution you need.
We are here for you
Hylab was established in 1947 and has a wealth of technical and industry knowledge. We are one of the most trusted companies for dispensing solutions globally and are proud to support the cleaning and hygiene industry for so long. We are interested in the long-term success of our customers and partners and have been building strong business relationships with our customers, offering advice, support and quality products.
Please contact us for any questions at sales@brightwell.co.uk